Joanne Mjadzelics: Lostprophets Ian Watkins 'made me sign gagging order' over abuse police threat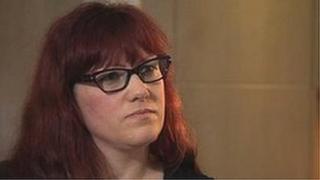 Convicted paedophile Lostprophets singer Ian Watkins made a woman sign a gagging order when she threatened to go to the police over concerns he would abuse a child, a trial has heard.
Ex-lover Joanne Mjadzelics, 39, of Doncaster, denies seven counts relating to indecent images of children.
She said Watkins had told her he had sent her a picture of a five-year-old girl being abused "and he'd raped her".
Prosecutors said "to her credit" she did report her concerns.
Ms Mjadzelics has claimed she only exchanged explicit pictures and conversations with Watkins as a means to expose him and bring him to justice.
The court heard she sent him five pictures from her mobile phone depicting sexual abuse of children in September 2011.
Watkins was sentenced to 35 years for child sex abuse offences in December 2013.
But prosecutors told her trial in Cardiff Crown Court that they did not believe the claim she was only trying to trap him, but said she was obsessed with him.
In details of police interviews with the defendant after her arrest, jurors heard she told officers: "I was totally in love with him," when questioned about a sex video made in 2008 in which the pair talked in graphic and explicit details about things they would like to do to very young children, including rape.
She said she had stopped using cocaine in 2008 and had realised the conversations with him were wrong, and a few months later Watkins had made her sign a gagging order "because I was talking about going to the police".
She said in the interviews: "I saw him again in 2010 and again in May 2011 when I realised I needed to do something.
"He said he'd sent me a picture of a five-year-old girl being raped and he'd raped her."
Ms Mjadzelics told police she had been in touch with senior police officers - angry that nothing had been done about Watkins in 2008.
'Made me feel sick'
The court heard in November 2011, Watkins invited her to come and see him to receive more images, saying he had a flash drive for her.
"I said I'll pocket that with his prints on it - but I never got a flash drive," she told police.
She claimed she reported him in February 2012 but that nothing had been done about it so she decided to meet him again in April.
She told police she had resumed contact with him and had sexual conversations with him in order to try to get him to trust her again because "this was the only way to trap him and get confessions out of him.
"The only reason I would say any of this would be to get him to trust him... what can I do? No one is doing anything about him... do you want me to video him with a child? What am I supposed to do?"
She said what Watkins had said "used to make me feel sick".
"After 2008 the only time I ever contacted him or saw him was to try and trap him."
'Put on an act'
In a second police interview in March 2014, Ms Mjadzelics described how she first met Watkins in 2006 and by 2007 they were meeting in hotels in Cardiff, London and Los Angeles.
He started talking about sex with under-age fans before discussing younger children, but she felt she had to "just go along with it because otherwise he'd just go off with someone else".
After reporting concerns to police in Pontypridd, she felt they "couldn't be bothered" so she emailed the chief constable of South Wales Police, the court heard.
But she said contacting police "was not going to change anything. I've got to put on an act .... that's when I decided I've got to trap him".
Ms Mjadzelics told officers she had previously worked on a sex line and said she had never met anyone as extreme as Watkins, saying: "He was like a client - just a bloke getting off. Maybe I'd trip him up and it would be enough."
Ms Mjadzelics denies four charges of possessing indecent images of children, two charges of distributing images and a charge of encouraging and assisting the distribution of an indecent image of a child.
The trial continues.