Ebola test negative on Royal Glamorgan Hospital patient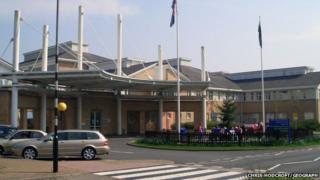 A person admitted to hospital in Rhondda Cynon Taf with suspected Ebola has tested negative for the virus, say health officials.
The individual was being monitored at the Royal Glamorgan Hospital, near Llantrisant, after returning from West Africa with a fever.
A spokeswoman for Public Health Wales confirmed tests proved the patient does not have the disease.
Medical staff in protective clothing had been looking after the person.
Before the test results were known, Pontypridd AM Mick Antoniw said the person had been put in an isolation unit as a "purely precautionary measure".
Several people have been tested for the infection at Welsh hospitals in recent months, but no-one has been diagnosed with the disease.
Ebola is a viral illness with symptoms including a sudden fever, intense weakness, muscle pain, a sore throat, vomiting and bleeding.
Up to 6 January, 8,235 people had been reported as having died from the disease in six countries; Liberia, Guinea, Sierra Leone, Nigeria, the US and Mali.