Missing dog found dead in ditch with legs tied together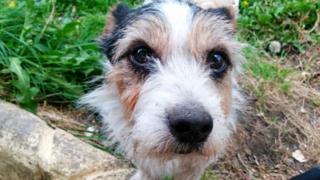 A missing dog has been found dead in a flooded ditch with his front and back legs tied together and a towel over its head.
The 16-year-old Jack Russell called Sam was owned by a Monmouthshire family who had been searching for him since just before Christmas.
The dog was discovered at Barecroft Common in Magor on Monday.
His distraught owners were tracked using a microchip on the pet.
The RSPCA is now investigating and has appealed for information.
Sam's heartbroken owner, Joanne Dean, said: "We had Sam for 14 years, he was two when we got him.
"We had been putting out posters and put it on websites and Facebook. It was not what we were expecting at all."