Charlotte Carpenter becomes Wales' first female Fifa referee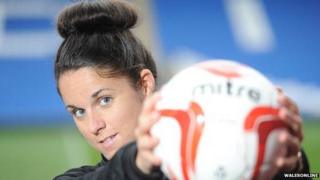 A sports coach has become the first Fifa-accredited female referee from Wales.
Charlotte Carpenter, 26, from Abercynon, Rhondda Cynon Taf, has been added to the international body's list of international referees.
She has only been a referee for three years but can now be an official at women's tournaments abroad.
Eventually, Miss Carpenter could go on to officiate in the Women's World Cup and Women's Champions League.
"It's craziness - I'm on cloud nine," she said. "This is my third season and it has been a rapid rise. I think the first games I will get will be U19 games, which could be anywhere in Europe."
When asked about her ambitions in the game, Miss Carpenter, who trained at Aberdare Referees Society, said: "Firstly, I want to raise the profile of women referees in Wales.
"On a personal level, I'm going to try and get to Fifa's elite level, which means I will be able to referee at Champions League games and the World Cup."