Bridgend's 15th Century bridge arch exposed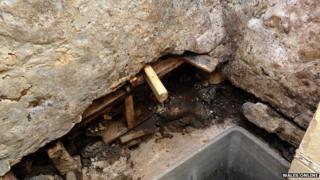 The fourth arch of a medieval stone bridge in Bridgend has been exposed for the first time in about 200 years.
The wooden structure was exposed after flood water got into the basement of an office building, which was built on part of the bridge in 1820.
Heritage body Cadw has visited the bridge, which is an ancient monument dating back to 1452, and has provided advice to ensure the arch is preserved.
It is hoped a glass wall will be erected so people can see it.
Staff at Graham Paul chartered accountants in Dunraven Place were first given a glimpse of the fourth arch under their office about seven years ago when part of a wall panel came down during renovations.
But the whole arch has now been uncovered after builders had to remove a wall when water from the river seeped into the basement in early December.
John Squire, director of Graham Paul, said: "It's perfectly preserved and is very solid."
Bridge's history
Gives Bridgend its name
Pilgrims used it to cross the river on their way to St David's in Pembrokeshire
It was constructed in 1425 and rebuilt after floods partially destroyed it in 1775