Joanne Mjadzelics: Majority verdict call in Watkins' ex trial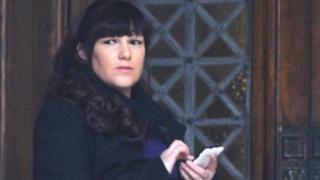 A jury in the trial of an ex-lover of Lostprophets singer Ian Watkins accused of child sex abuse image offences can return a majority verdict of at least 10 to one, a judge says.
Joanne Mjadzelics, 39, from Doncaster, claims she was trying to trap the paedophile by exchanging explicit pictures and conversations with him.
She denies seven charges.
Watkins was given a 35-year sentence in 2013 for the attempted rape of a baby and other child sex abuse crimes.
The jury started its deliberations on Monday but the judge, the Recorder of Cardiff Eleri Rees, said on Tuesday afternoon she would accept the majority verdict.
The jury of eleven members has resumed deliberations.
The defence told Ms Mjadzelics' trial had stumbled into "the sickest of worlds, women abusing their own children".