Safety concern over walking route to Bassaleg School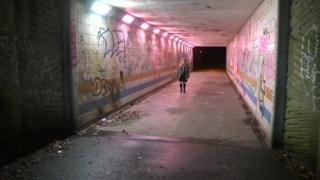 A school in Newport is questioning the safety of a route its pupils use to walk to school, which it says is recommended by the city's council.
The stretch from Rogerstone to Bassaleg School includes an underpass and narrow dark lanes.
Cuts to school bus services in the area mean more pupils now have to walk and parents say the route is not safe.
But Newport council said changes to bus services are in line with the law and it does not "approve" walking routes.
A letter written to the council by the school's chairman of governors, councillor David Williams, expressed concern at the route, highlighting the "significant walk in the dark" during the winter months, and how "lonely" parts of the route are.
'Horrible'
Mr Williams also highlighted the fact that the route crossed busy roads, railway links and a river, which he felt were not covered by the Safe Routes to Schools initiative.
Dr Isolde Shore-Nye, a GP whose 11-year-old daughter Ella uses the route, said: "I think the council should accept that this isn't an available route to school and should actually go back to giving the children free bus transport from our area."
Ella added: "It's horrible, it's dark in the winter and you can't see where you're going really and anybody could be anywhere, so you don't really know what to do because there's nowhere really to go."
The council said by law, schools in Wales only have to provide free transport to pupils living more than three miles from their secondary school apart from in exceptional circumstances.
A spokesman said the council is "satisfied that there are appropriate routes available which are less than three miles and can be used safely by children, accompanied if necessary by an adult."