Police tax rate changes approved by Dyfed-Powys and Gwent forces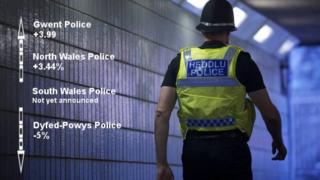 Householders in the Dyfed Powys police area will see a 5% drop in the amount they pay for policing, as rates in the Gwent force area rise.
The proportion of council tax paid to Gwent Police will increase 3.99% for the next financial year.
It means residents in a Band D property will see an £8 increase on their bill.
People in a Band D property in the Dyfed Powys force area will save £10 a year.
Earlier this week, North Wales Police and Crime Panel agreed a 3.44% increase - or £7.83 extra for a Band D property - which Police and Crime Commissioner Winston Roddick said was "not unreasonable".
South Wales Police and Crime Commissioner's office is expected to reveal its proposals over the next few days.