University Hospital of Wales and Llandough cancel appointments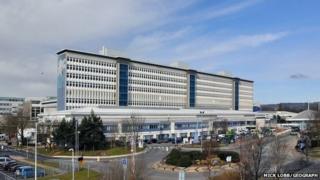 Hospitals in Cardiff have been forced to cancel a number of outpatient clinics, citing winter pressures on services.
Patients who were due to attend the University Hospital of Wales and University Hospital Llandough are being contacted to inform them.
Some clinics including cardiac, mental health, children's and dental were still operating.
Appointments for the rest of the week will go ahead as planned.
Alice Casey, chief operating officer at Cardiff and Vale University Health Board said: "We would like to thank all members of the public in bearing with us today after the decision to cancel and rearrange a number of elective and outpatient activities.
'High demand'
"This decision was made due to the number of patients, presenting as emergencies with complex needs requiring a high level of care, therefore our priority has been to look after these people.
"Demand on our services remains extremely high, but we are able to confirm that all appointments for the rest of the week will continue as planned."
Anyone uncertain if they should attend can call 02920 748181.