Chicken found covered in paint and with beak tied by tinsel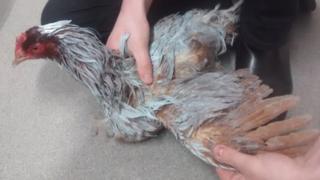 A chicken has been found in Tredegar covered in paint and with tinsel wrapped around its beak.
The RSPCA says the white emulsion appears to have been painted on deliberately and are appealing for information.
The bird - called Lambie - went missing on 19 January and has now been washed and reunited with its owner.
A RSPCA spokesman said: "It is just so unusual - who would have done this and why? It has been done deliberately."