Former Newport head Samantha Yeoman struck off teaching register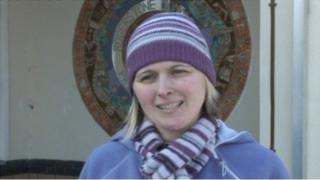 A former Newport primary school head teacher has been struck off the teaching register for allowing her staff to manipulate national test results.
The conduct of former Rogerstone Primary head Samantha Yeoman was "unacceptable", a General Teaching Council for Wales hearing ruled.
She has been banned from teaching for three years. She resigned last year.
The hearing in Cardiff found Mrs Yeoman had acted "dishonestly".
It said she had also created a threatening and intimidating work environment.
The hearing found she allowed staff to manipulate national test results so pupils would get better grades before the 2013 exams.
She also allowed teachers to take pupils back into rooms to change wrong answers after the tests were complete and allowed pupils extra time to finish tests.
After the hearing, Rogerstone Primary School current head teacher Steve Rayer said the school and community had been through a difficult period where "relationships and trust broke down".
He said: "With our culture of working together the governing body, parents and staff can now draw a line under this and continue to move the school forward."
Mrs Yeoman will have to wait three years before she can reapply to become a teacher.