Benefits cheat accused Alan Bannister 'champion golfer'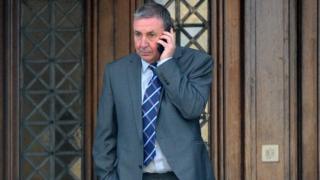 A man accused of a £26,000 benefit fraud who said he was too ill to walk was a champion golfer, a court heard.
Alan Bannister, who has chronic arthritis, claimed £26,090 in higher rate Disability Living Allowance between 2004 and 2012.
Cardiff Crown Court heard he was a club champion at St Andrews Major Golf Club in the Vale of Glamorgan at that time.
Mr Bannister, 56, from Barry, denies theft and fraud and said he would only play golf when taking pain killers.
Prosecutor Stuart McLeese said Mr Bannister wrote on his claim form that he could not walk 50 metres before feeling severe discomfort and that would take him 10-15 minutes.
Chronic arthritis
Department for Work and Pensions investigator Andrew Holland covertly filmed Mr Bannister after receiving an anonymous tip-off.
He told the court he saw the defendant have little trouble navigating the 18-hole course, which was completed in just over four hours.
Mr McLeese said in 2004, Mr Bannister joined the golf club and went on to play off a handicap of six.
"For those who may not know....[that means] Mr Bannister was a pretty good golfer," he added.
The court heard Mr Bannister has ankylosing spondylitis, a chronic form of arthritis.