Royston Jones denies trying to kill wife on hospital ward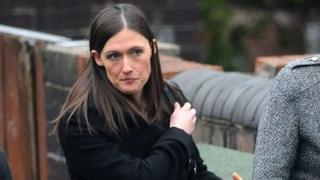 A jealous husband strangled his wife and tried to kill her as she worked on an intensive care unit, Newport Crown Court has heard.
Bare-chested Royston Jones confronted nurse Claire Jones, 35, at Nevill Hall Hospital in Abergavenny.
Mr Jones floored his wife and lay on top of her with his hands around her neck. She was unconscious by the time colleagues pulled him away.
The 39-year-old from Brynmawr denies attempted murder.
Michael Jones, prosecuting, told the court the pair had split up and Mr Jones threatened to kill his wife because he believed she was in another relationship.
On the day of the attack in September last year, Mr Jones rammed his wife to the floor and lay on top of her trying to strangle her, the jury was told.
Colleagues managed to drag her into another room but her husband came after her and put her in a headlock to choke her before she blacked out.
The mother of three told the court: "He was like a man possessed. Marching towards me, seething and glaring at me.
"All he said to me was 'you've done it now'. And I said 'what have I done?'
"He put both his hands around my throat and neck and I was aware of colleagues screaming and shouting around me."
Mrs Jones was treated for a swollen neck and throat, elbow and back injuries.
The court heard that after being arrested Mr Jones told police: "The court better not let me out or I'll finish the job. I won't be in jail forever."
The jury heard Mr Jones had a history of drug abuse and had taken drugs on the day of the attack with the intent of killing his wife.
The trial continues.