Royston Jones trial: Doctor saved ward attack nurse's life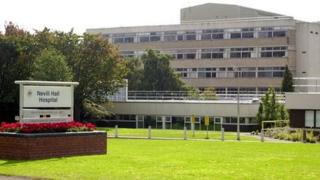 A doctor saved the life of a nurse who was being strangled at a hospital unit by her jealous husband, Newport Crown Court heard.
Consultant anaesthetist Edward Curtis said he tackled Royston Jones as he throttled his wife, Claire, at Nevill Hall Hospital in Abergavenny.
Mr Jones, 39, from Brynmawr denies attempted murder last September.
Dr Curtis, 45, told the trial how he tackled a bare-chested Mr Jones who claimed he had a hand grenade.
He said: "I saw the man charging. Nurses were screaming 'he's going to kill her'.
"I could see Claire on the ground and he was on top of her with both hands around her neck.
"Her face was turning to blue-grey and she wasn't moving and he was saying words like 'kill' and 'die'.
"I wrestled with him and managed to pull him off but his knee caught me with considerable force and stunned me."
Hospital porter Ian Woods said he responded to a message on the hospital radio system and saw a man with "a muscular or strong build" being restrained by two porters and a doctor.
He told the jury that the man said "he had a bomb strapped to him and he would blow us all up. He said he had a hand grenade. He said he had hepatitis B and he would bite us".
Mr Woods said five people struggled to restrain the man, but they managed to pin him to the floor until police arrived.
Nurses on the intensive care unit managed to move Mrs Jones, 35, into a side ward where a seriously ill patient was hooked up to oxygen - but Mr Jones allegedly renewed his attack.
Dr Curtis said: "He got her in a head lock and tried to strangle her again but I managed to grab his arms."
Mrs Jones was treated for a swollen neck and throat, elbow and back injuries.
The case continues.