Cancer patient transport funds worry in Rhymney Valley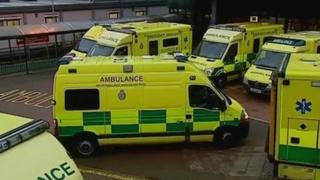 The Welsh Ambulance Service has said it would be "unfortunate" if a charity which transports patients with cancer to hospital was to close.
Cancer Lifeline Upper Rhymney Valley (CLURV) said it had been unable to find further funding to pay volunteer drivers' expenses.
The charity has operated in the Caerphilly area for 10 years.
Caerphilly council leader Keith Reynolds said it would be a "tragedy" if the service did not continue.
It links volunteer drivers with those who need to attend hospital over 15 miles away.
Charity committee chair Liz Nicholas said: "Without a big injection of cash we can't exist any longer and I am really sorry that we will be unable to carry on the charity, but I don't see any other way out."
Service user Wyndham Jones, 89, from Bargoed was diagnosed with skin cancer and has had to attend hospital treatment appointments for several years.
"All my family are living away and they're worried about me going back and forward," he said.
"But when they know I'm in safe hands, it means a hell of a lot to the family that I'm getting looked after because I'm coming up to 90 now."
Richard Hall, the Welsh Ambulance Service's Patient Care Services (PCS) customer service manager, said: "Communities rely heavily on these kinds of services and it would be unfortunate if a lack of funding meant that the CLURV service was to be lost."