Plans for housing on BBC Wales site unveiled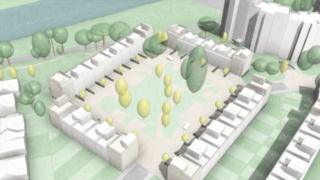 The first images of a proposed new housing development on the site of BBC Wales' current headquarters in Cardiff have been unveiled.
The artist's impressions show how about 400 houses and apartments could look at the Broadcasting House and Ty Oldfield sites in Llandaff.
If given planning approval, work could start in 2018 after the BBC relocates to new headquarters in the city centre.
The images will be shown at a public exhibition in Llandaff on Thursday.
Concerns have been raised by the plans, with Llandaff Society saying the character of the area "will be very difficult to sustain" with so many homes being built.
The Taylor Wimpey development is expected to include a mix of one and two-bedroom apartments and three, four and five-bedroom houses.