Pavement trip led to nurse's death at Cardiff hospital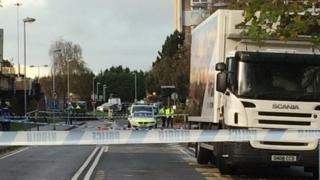 A nurse tripped on a pavement outside the hospital he worked at and fell under a lorry, suffering "catastrophic injuries", an inquest has heard.
Anecito Obsioma, 55, was doing an extra shift at University Hospital of Wales in Cardiff in order to send money to his ill sister in the Philippines.
Repair work forced pedestrians to walk in the road before stepping back onto the pavement where he tripped.
At the hearing in Cardiff, the coroner recorded a verdict of accidental death.
Mr Obsioma, known as Cito, had been a theatre nurse for 10 years and had been "a little bit late" as he walked to work from his home in Cathays on 12 November last year.
He tripped and fell under the rear wheels of a lorry delivering food, just yards away from the hospital's Emergency Unit.
Doctors and nurses immediately rushed to his aid but he died two hours later.
Lorry driver Michael Wilkins told the inquest he had noticed a man crossing the road.
"I looked in my left wing mirror and I saw him hit the side of the truck and bounce off it and fall onto the pavement.
"I didn't see if I had run over him. I hit the brakes and ran back and he was on the road and already being looked after by people."
CCTV cameras caught the moment the NHS nurse hit the kerb with his right foot as he attempted to step back onto the pavement from the road.
Assistant coroner Tom Atherton said: "It is quite clear he stumbled as he first made contact with the pavement, which caused him to stumble and fall into the road."