Husband Royston Jones guilty of nurse murder bid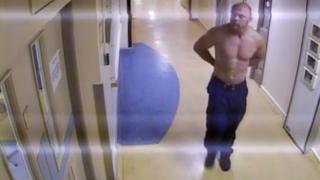 A man has been found guilty of attempting to murder his wife by strangling her as she worked in an intensive care unit.
Bare-chested Royston Jones attacked Claire Jones in front of colleagues at Nevill Hall Hospital in Abergavenny.
Jones, 39, of Brynmawr, Blaenau Gwent, was shouting "kill" and "die" and left his estranged wife, who is a nurse, unconscious on the floor.
Newport Crown Court heard "jealous" Jones thought she was having an affair.
Colleagues, who have been hailed heroes, managed to stop the attack by the drug-fuelled unemployed driver, the trial heard.
Prosecutor Michael Jones told Newport Crown Court: "He was a jealous, possessive and aggressive man who was convinced his estranged wife was in another relationship.
"Were it not for the heroic intervention of staff at that hospital, he would undoubtedly have succeeded."
'Man possessed'
Ms Jones, 35, told the trial: "He was like a man possessed. Marching towards me, seething and glaring at me.
"All he said to me was, 'you've done it now' and I said, 'what have I done?'
"He put both his hands around my throat and neck and I was aware of colleagues screaming and shouting around me.
"They were shouting, 'get off her, get off her'.
"I lost consciousness and the next thing I remember is being dragged into an office and a colleague telling me, 'you're alright now'.
"My colleagues were looking at me in horror."
Ms Jones was treated at the hospital's A&E unit for a swollen neck and throat and back injuries.
'She was blue'
Consultant anaesthetist Edward Curtis told the court: "I saw the man charging. Nurses were screaming, 'he's going to kill her'.
"I could see Claire on the ground and he was on top of her with both hands around her neck.
"Her face was turning to blue-grey and she wasn't moving and he was saying words like 'kill' and 'die'.
"I wrestled with him and managed to pull him off but his knee caught me with considerable force and stunned me."
He said Ms Jones would have died if he had not intervened.
The court heard Jones told police after he was arrested: "I'll do two years for this. The court better not let me out or I'll finish the job. I won't be in jail forever."
Jones was remanded in custody and will be sentenced on 20 February.
After the court case, Jeff Mark from Crown Prosecution Service Wales, said: "There is little doubt that he intended to kill her and he would very likely have succeeded, were it not for the swift and heroic actions of staff at Nevill Hall Hospital."