Visa prisoner Mathew Davies freed from Indonesia jail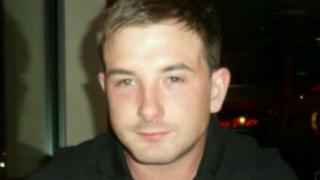 A 25-year-old south Wales man, jailed in a notorious Indonesian prison after breaking visa rules, has been released.
Mathew Davies, from Blackwood, Caerphilly, was sentenced in 2014 to six months in prison after his visa ran out.
He had been held at Cipinang Penitentiary Institution in the country's capital Jakarta.
But he has been released from the high-security prison and will fly back to the UK on Thursday.
His mother Yvonne, 53, said: "I'm very pleased he's coming home. It will be really nice to get to see him and give him a nice big hug."
Davies travelled to Indonesia to start a job with a computer firm and also worked in a restaurant.
But his working visa ran out and he was jailed in August 2014.
Mrs Davies is planning on meeting him at the airport with her husband Wayne, 53, and their other son Nathan, 19.
Lindsay Whittle, Plaid Cymru AM for South Wales East, campaigned for Davies' release.
He said: "I campaigned for his release because I did not believe the visa infringements warranted such punishment. He should never have been jailed.
"However, the problems Mathew endured does highlight the need for all people living and visiting abroad to take care and ensure they comply with local laws."
Mrs Davies claims the Foreign Office has contacted her to confirm the release although they will not comment further on the case.
A spokesman previously said: "We can confirm that a British National has been sentenced to a term of imprisonment in Indonesia.
"We are providing consular assistance."