Death crash driver Taylor McDonnell 'hit animal'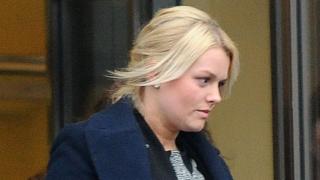 A 21-year-old woman who is accused of knocking down and killing an elderly couple while "grossly distracted" by her phone, said she thought she had hit an animal.
Denis and Joyce Drew, both 86, were hit while returning home from a friend's house in Ponthir, near Caerleon, two years ago.
Taylor McDonnell denies two death by dangerous driving charges at Newport Crown Court.
She claims her phone was on speaker.
The court heard the defendant had been on her way to her boyfriend's house in her blue Toyota Aygo on 13 November, 2013, when she decided to call her grandparents, so she pulled over before dialling.
Miss McDonnell said she had pulled into a lay-by for around seven minutes but told the jury: "I can't remember where I stopped."
She added she then drove off still talking to her grandfather and her phone was in a slot by her CD player.
During cross-examination on Thursday, Miss McDonnell said she was on the phone while driving, but it was not in her hand, and she was not distracted by it.
Lucy Crowther, prosecuting, put it to the defendant that "she thought she had hit an animal" after the collision. The defendant replied "yes".
Ms McDonnell had previously told the court her phone had been on loudspeaker while her car was moving. Today she told the jury "when I put my phone on speaker I didn't know you weren't allowed to do that, but do now".
Asked how she heard her grandfather, she replied: "When my grandfather talks he shouts."
When it was put to her that her phone was "very publicly pressed to the side of your ear", she said: "No I don't accept that."
The case continues.