Cardiff council set for 'concerning' £9m overspend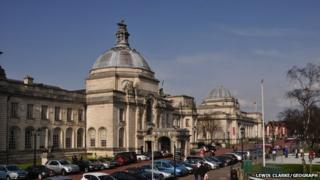 Cardiff council is set to overspend by about £9m in this financial year.
Corporate director, Christine Salter, described the situation as "a significant cause for concern" in a report to be discussed on Thursday.
This comes just days after the council said that up to 600 posts could go as it tackles a £41m shortfall in 2015/16.
A council spokesman said it is on course to bring in a balanced budget and action will be taken in departments that have a projected overspend.
Most of the overspend has come in health and social care, children's services and education.
Council departments have been ordered to review all recruitment, agency workers and discretionary overtime between now and April.
Leader of the opposition, Liberal Democrat Judith Woodman, said: "If you have an administration that cannot present a good budget and deliver on that budget then really they shouldn't be in that job."
The council spokesman added: "The directorate overspends are partially offset by a £4m contingency which was built into the budget to reflect the risk associated with the proposed savings for 2014/15."