Police probe after drink can hits Croesyceiliog teacher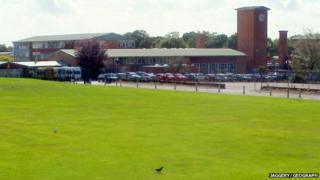 An MP says police were asked not to investigate after a teacher was knocked unconscious at a Torfaen school.
History teacher Jane Breeze was taken to hospital after a drink can was dropped on her head from four storeys up at Croesyceiliog School in Cwmbran.
David Davies MP said the school indicated it should be dealt with under the 'School Crime Beat Protocol'.
Chairman of governors Colin Crick told Wales Online the acting head offered advice and support to Mrs Breeze.
Gwent Police confirmed it is investigating an allegation of assault on Friday.
"The police have told me in an e-mail that the incident has been recorded as a crime but the school indicated that they would deal with it under the crime beat protocol," said Mr Davies.
"If someone commits a very serious offence then there is no question the police should be called immediately."
'Disgraceful'
Under the protocol, the matter would be handled internally unless the police are requested to record it as a crime or if the matter is so serious that it must be recorded.
The Monmouth MP said he had no issues with Gwent Police's handling of the matter, but has criticised the idea it should be dealt with under this protocol.
"It's been absolutely disgraceful the way the whole thing has been handled," he said.
A Gwent Police spokeswoman said an officer was called to the school after a report of a teacher being injured by a falling object and the force is investigating an allegation of assault.