Labour MP blasts Cardiff councillors ahead of cuts plan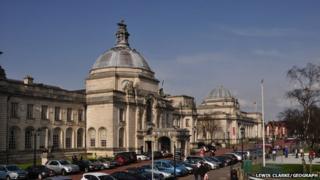 A Labour MP has described his party colleagues' running of Cardiff council as "appalling".
Discussing potential changes to the capital's play centres, Stephen Doughty said he needed assurances from the city's senior Labour councillors before he could "believe anything" they say.
The comments have been made in an email from the Cardiff South and Penarth MP to Cardiff's deputy leader Sue Lent.
A crunch meeting is being held this week to make £41m council savings.
Last week, BBC Wales revealed Cardiff Labour councillors thinking of rebelling against cuts had been warned they could damage the party's general election prospects.
The budget will go to a vote of the full council on Thursday after they were accepted by the Labour cabinet last week.
'Scepticism'
In an email sent on 11 February to councillor Lent, Mr Doughty discusses his concerns about the future provision of play centres in the capital.
He said: "At the moment I need to be frank that I have a great degree of scepticism in anything you say given the failure of your officers and you to help deliver solutions in the past year before play centres in some of the most deprived wards in the city faced closure/be mothballed.
"I am willing to have any discussion with you or others that secures transitional support to allow play to remain open and functional in key locations in Cardiff South - but it will require some pretty categorical assurances before I am willing to believe anything you, Graham [Hinchey, Finance Cabinet Member] or Phil [Bale, Leader] say after the appalling handling of this process so far."
Mr Doughty was responding to an earlier email from Ms Lent in which she suggested arranging a meeting to discuss the council's plans for play centres.
Ms Lent said: "There is no intention to 'close' any centres but different solutions will apply in different centres and our officials continue to work hard with interested groups to make sure that children's play continues."
In a statement to BBC Wales, Mr Doughty said: "It is important that local politicians are a part of the discussions around the budget but deeply unhelpful that information relating to those discussions is being leaked to the media. I will continue to work with Labour colleagues to ensure that Labour successfully pass a budget this Thursday."