Ex-Heolgerrig school head Jill Evans 'bullied' staff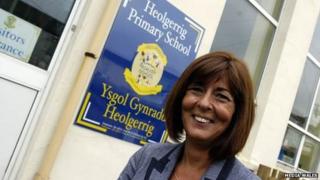 A former primary school head teacher bullied staff and encouraged pupils to disrupt lessons, a disciplinary hearing in Cardiff has been told.
Jill Elizabeth Evans, 54, formerly of Heolgerrig Community School, Merthyr Tydfil, is also accused of falsifying staff meeting minutes and breaching confidentiality.
She is also alleged to have allowed a caretaker to supervise a class while a teacher had a haircut.
She denies nine allegations.
The General Teaching Council for Wales hearing was told Ms Evans also failed to adequately address health and safety issues at the school and gave her son's girlfriend a teaching assistant post, which breached council guidelines.
'Disrespect'
She is also said to have destroyed the payslips of two former staff members and encouraged children to "play up" for supply teachers in order to assess their ability in handling a class.
Former Heolgerrig teaching assistant Yvonne Mahoney told the hearing: "She would bring the children in and ask them what they thought about certain teachers… she would encourage this disrespect for supply teachers, ask them if they liked someone or not."
She said Ms Evans also falsely claimed a council-funding training package intended to help parents and children improve their maths and English had started, when it had not.
It has been alleged the money was instead used to buy different software.
Ms Mahoney told the disciplinary panel she made a complaint of intimidation against Ms Evans after returning from school holidays in 2010.
But she agreed she had a "good working relationship" with Ms Evans initially, and that during five independent reports on the school between 2007 and 2009 she did not make any negative comments about her.
The hearing continues.