Opposition groups' alternative budget plans for Cardiff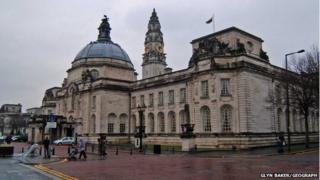 Opposition groups on Cardiff council have published alternative budget plans including a 3.7% council tax rise.
The coalition of independents, along with Liberal Democrats, Conservative and Plaid Cymru members say their plan is one that "all parties can support".
The ruling Labour administration's controversial 2015-16 budget will be put to a vote on Thursday.
Labour backbenchers are unhappy with proposed cuts to day centres and play groups, and a 5% council tax rise.
BBC Wales understands some of them are considering supporting the opposition plan.
'Minimise worries'
Labour has already warned potential rebels that voting against the budget could damage the party's general election prospects in the city, and would lead to disciplinary action.
As well as a lower council tax increase, the proposals from opposition councillors involve more funding for day centres and play groups.
Independent councillor Jayne Cowan said: "There is widespread concern about the impact of the cuts on communities across the city and we wanted to make sure we respond positively to minimise the worries local people have about the future of their services.
"Crucially the amendment will provide sufficient funds to maintain play centres, youth centres, day centres and the Cardiff Alcohol and Drug Team Counselling Service until sustainable alternative delivery mechanisms are in place and operating satisfactorily."