Head teacher told pupils to play up, hearing told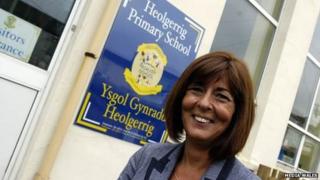 A former primary school head teacher accused of bullying staff asked pupils to "play up" in class, a hearing has been told.
Former language support teacher at Heolgerrig Community Primary School Alison Devereux said Jill Evans wanted the children to misbehave during observation lessons.
Ms Evans, 54, denies nine allegations at the General Teaching Council for Wales hearing.
The claims date from 2007 to 2010.
It is alleged Ms Evans bullied staff, used grant funding improperly, breached confidentiality, falsified staff meeting minutes and allowed a school caretaker to supervise a class while a teacher had their hair cut in her office.
At the hearing, Ms Devereux said she had been warned by a pupil they had been instructed to be disruptive during one of her lessons.
'Intimidated'
She said she had acted in a "cowardly" manner by not speaking up about what was happening in the school, but she was afraid of losing her job.
Ms Devereux also claimed Ms Evans intimidated her following a meeting.
Gwilym Roberts-Harry, defending, said she was making the claims because her job was in jeopardy due to her being on secondment.
Meanwhile, teaching assistant Deborah Roper told the hearing she also felt intimidated.
She said she saw Ms Evans having her hair cut at school, at around 09:15 GMT, one morning, which would have been during pupil registration.
The hearing continues.