Evacuated residents allowed home after bingo hall fire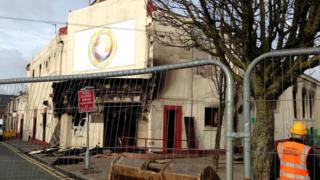 Residents evacuated from their homes in Cardiff after a bingo hall fire can return home while demolition work is carried out.
Work to take the building in Pearl Street, Adamsdown, down by hand started on Wednesday following the blaze on Monday.
It ripped through the three-storey property and 60 residents were temporarily re-housed.
Homes were evacuated after fears over smoke and possible building collapse.
A clean-up of the area will begin on Friday and debris from residents' gardens will also be collected.
Tests of the air identified an asbestos-type material, but Public Health Wales and Cardiff council's environmental health department said it did not pose a significant health risk.
In a joint statement they said their priorities were to protect public health and to get roads and businesses open following closures.