Claims Newport half marathon route was too short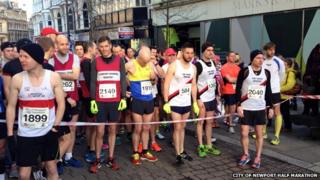 Claims Newport's half marathon course was too short are being looked into by those responsible for measuring it.
Sunday's event was criticised by some runners after some found their personal best times were faster than expected.
Phil Cook, of the Association of UK Course Measurers, which issued the course with a certificate of accuracy, said it would re-examine the data.
He added that runners' GPS data could be inaccurate but he could re-measure the course if any errors were found.
Emma Saysell, chief executive of St David's Hospice, which organised the race, said: "As far as we're concerned the course was measured by an accredited professional.
"The course length was accurate based on what they told us."