Tributes to Hamid Ali Khan, 12, killed after being hit by car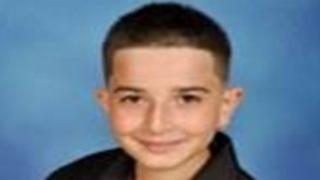 A boy who was killed when he was hit by a car in the Riverside area of Cardiff has been named as 12-year-old Hamid Ali Khan.
The Year 7 Fitzalan High School pupil was struck by a white Audi S3 on Ninian Park Road at about 16:00 GMT on Friday.
His family said the Cardiff City football fan excelled at school and had dreams of becoming a doctor.
A 25-year-old man arrested on suspicion of causing death by dangerous driving has been released on bail.
'Loved life'
Cardiff City fans paid tribute to Hamid with a round of applause in the 12th minute of the team's match against Wolverhampton on Saturday.
In a tribute his family said: "Hamid was a wonderful son and brother. We were immensely proud of him and everything he achieved. He was a very loving child and respectful of his family and everybody he met.
"Hamid was a regular worshipper at the Severn Road mosque in Canton and was in the process of memorising the Koran having just completed the first chapter.
"He had dreams of becoming a doctor or footballer and was excelling academically at school. We would never have to nag him to do his homework - he would just quietly get on with his studies.
"Hamid loved life - he would always be ready to go off to school excited at the prospect of learning something new each day. We are all devastated but take comfort in knowing Hamid fitted so much in to such a short life."