Newport nurse Melanie Shurn jailed for overtime fraud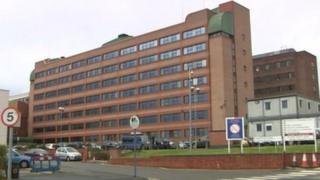 A hospital sister who claimed £17,000 in fake overtime payments has been jailed for a year.
Melanie Shurn, 43, of Newport, even claimed for shift payments at the Royal Gwent Hospital while she was on holiday, Cardiff Crown Court heard.
At other times she was out shopping, enjoying a Six Nations rugby game in a pub, and on a luxury hotel break.
Shurn pleaded guilty to five charges of fraud in January. She was sacked by the hospital in 2013.
It came after a concerned member of staff blew the whistle on the fraud.
The court was told that Shurn had experienced a "meteoric" rise from student to nursing sister on a £38,000 salary.
Prosecutor Anthony Vines said in addition to the fake timesheets, which she told junior colleagues to countersign, she also claimed £110 for a pretend management course.
Shurn also cashed most of a £500 cheque from a grateful patient, when the money should have gone to buy items for the hospital wards.
The court heard from defending lawyer Jeremy Jenkins that Shurn was a "dedicated" nurse whose rise to sister was meteoric.
But jailing Shurn, from Rogerstone in Newport, Judge Stephen Hopkins told her: "For the last two-and-a half years you burned that particular star out.
"Your actions struck at the heart of public confidence."