Spied-on Pontllanfraith teacher Kim Shaw disciplined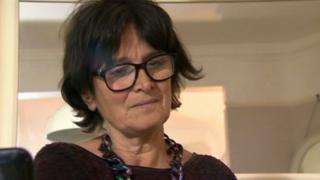 A spied-on teacher who made multiple complaints about colleagues and broke confidentiality rules has been disciplined.
Kim Shaw, who was tailed by private investigators while on sick leave, can teach providing she meets conditions.
The ex-Pontllanfraith Comprehensive teacher must get evidence showing she has behaved professionally with head teachers.
The General Teaching Council for Wales (GTCW) found five allegations proved.
Steve Powell, chairman of the GTCW panel, said she must provide the evidence from a head teacher at the end of each half term from the beginning of the summer term 2015 until the end of autumn 2016, or until 10 reports have been provided.
Mrs Shaw said during the hearing the head teacher was not listening to her concerns about pupil safety and coursework issues.
She was suspended from Pontllanfraith Comprehensive in 2010.
'Injustice'
The council unlawfully used covert surveillance to follow her while she was suspended, it was later found.
At the hearing in Cardiff, the GTCW said Mrs Shaw had made 20 grievances against a colleague and nine complaints to the WJEC exam board which were "designed to cause annoyance".
It also found she discussed her disciplinary procedure with colleagues, breaking confidentiality rules.
In February 2011 Mrs Shaw was given a written warning for her conduct and was signed off on sick leave due to stress.
Lousha Reynolds, presenting officer for the GTCW, said: "She felt her behaviour was justified because she wanted to make people pay, because she felt a sense of injustice."
'Fell short'
The information commissioner found unlawful surveillance was used by the council as part of their disciplinary process before they sacked her in September 2012, citing an "irretrievable breakdown in the working relationship".
Mr Powell said: "Her actions fell short of what is expected of a registered teacher."
In mitigation, Mrs Shaw told the hearing she was trying to highlight that a pupil was behaving aggressively towards her.
"This has been a four-and-half year struggle, at the heart of my struggle was my concerns about pupil welfare and the welfare of the school," she said.
Colin Atkins, from the NASUWT union, who represented Mrs Shaw, said she thought there were "legitimate issues of public interest" which she was trying to raise.
Mrs Shaw was dismissed from Pontllanfraith school in 2012, and is taking legal action against the council for their use of unlawful surveillance.