Cat recovering from being shot in head suffers second pellet wound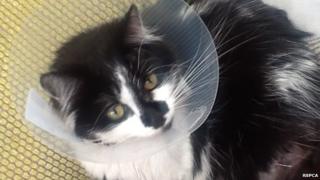 A cat recovering from being shot in the head suffered a second pellet wound in the leg just days afterwards.
The family pet, named Dorothy, needed two operations to remove pellets after being shot close to her home in Rogerstone, Newport.
Owner Georgia Hayes said the family were "crying our eyes out" and don't want to let her out now.
The RSPCA appealed for information to find who shot Dorothy on 4 March and again on 15 March.
Ms Hayes added: "It is just unnecessary suffering. If this happens again she might not be so lucky."
Anyone found guilty of causing unnecessary suffering to animals could face six months in prison or a £20,000 fine.