Crash victim's uncle Neil Stokes sentenced for fraud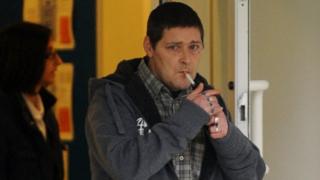 The uncle of a boy killed by a minibus at school has been given a community order after making a fake charity collection in his nephew's name.
Neil Stokes, 42, from Porthcawl, was convicted of dishonestly collecting £75 by Bridgend Magistrates' Court earlier this month.
Ashley Talbot, 15, died outside Maesteg Comprehensive in December when a minibus driven by a PE teacher hit him.
Stokes had denied fraud by false representation.
He had begun cold-calling homes in Porthcawl saying he was collecting for Ashley's family. Instead of passing on the £75 he had collected directly to Ashley's mother, Stokes kept the money.
His mother inadvertently reported her own son to the police after she was told someone was collecting money without the family's permission.
It was only later she realised it was Stokes when she heard a description of the man's tattoos.
The court was told Stokes handed himself in the following day and had told the police he had used the £75 to pay off a heroin debt. He later retracted those claims.
Stokes subsequently handed the £75 over to his sister, Ashley's mother. The court was told it was spent on flowers for Ashley's funeral.
Chairwoman of the bench of magistrates Jane Thorpe told Stokes they had "a lot of sympathy" for him and his family following the loss of Ashley.
Stokes was given a community order of a thinking skills course. He was ordered to pay £250 towards the costs of the trial and a £60 victim surcharge.