Lionel Richie fans stuck in lift after concert ends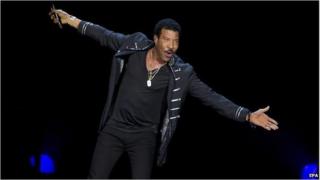 A group of Lionel Richie fans may well have felt like Dancing on the Ceiling of a lift in frustration when they could not get out of it after the end of the singer's concert in Cardiff.
Around 20 were returning to their cars in St David's shopping centre when the lift got stuck at the ground floor.
They remained stranded for around 45 minutes until they called and said "Hello" to the emergency services.
Firefighters made sure they were not there All Night Long and got them out.
Liz Brookes, who runs an event management company, had been to see Richie's All the Hits All Night Long show at the nearby Motorpoint Arena with her mother and a friend.
She said: "We got back to the lifts and it was quite busy. There was a guy in front of each lift I guess to monitor how many people got in.
"As the doors shut there was a kind of bang, and it was one of those where everyone looked at each other and thought 'that doesn't sound good'."
She said it became hot and stuffy in the lift as they waited for help, while staff outside told them an engineer was on the way.
She added: "People were getting quite upset and it was very uncomfortable."
Eventually the staff outside managed to prise the doors open by about an inch which allowed in some fresh air.
One of the fans inside the lift managed eventually to get a phone signal and called the fire service. "It was a huge relief," she said.
South Wales Fire and Rescue Service said the group were then quickly released using a firefighter's lift key which reset the system.
Shopping centre staff were waiting outside the lift as they were freed and gave them bottles of water.
A spokesperson for St David's apologised to the fans.
"The health and safety of our customers is our primary concern, which is why our team followed strict procedures and worked closely with the lift engineers to ensure that the situation was resolved safely," the spokesperson added.