Rogue builder Ronnie Connors jailed for conning pensioners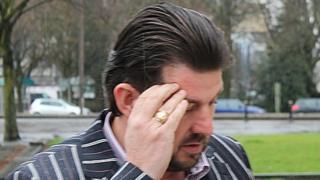 A rogue builder who charged an elderly woman £140,000 for repairs to her home worth just £6,000 has been jailed for 15 months.
Ronnie Connors, 39, of Coedkernew, Newport, also charged an 80-year-old victim £22,000 for work valued at £2,000 and quoted another £7,000 to tidy a garden.
He admitted three charges of aggressive business practice in the Cardiff area at Cardiff Crown Court.
Connors has since repaid his victims.
Prosecutor Lee Reynolds said Connors was a "rogue trader preying on the elderly and vulnerable" by charging extortionate prices for substandard work.
The court heard how Connors approached his first victim, who lives in Rhiwbina, Cardiff, after spotting weeds growing through the block paving on her drive.
Connors completed this repair work, but kept finding "more problems" and by the time his victim had paid out £90,000, she had lost track of what she was paying for.
The defendant claimed he subcontracted work to others not realising the work they were doing was deficient.
Recorder George Bull described Connors' behaviour as "despicable" and said the 15-month jail term would have been longer if all money had not been repaid.