Day in the life: Why being a zombie is harder than it looks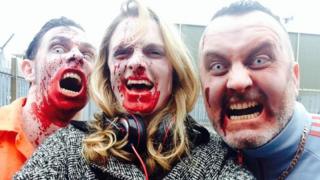 It is 14:30 GMT when I arrive at the abandoned warehouse round the back of Cardiff Central station.
I've been told to expect zombies and, after an unsettling five-minute wait, I'm not disappointed.
"Head Zombie" Alex appears in a bright orange jumpsuit and offers me a white blood-stained hand.
"I am the Zom Boss," he announces.
He's right, having trained up over 4,000 volunteer zombies in 6 years at Zombie School, he can call himself whatever he wants.
Two more zombies join us: Chris and Colin, both grinning menacingly with colourless eyes.
Inner zombies
By day Chris is a professor at Cardiff University, Colin an Estate Agent, but by night they let their "inner zombie" take over.
"I do struggle to control it in the Office," Colin tells me and admits he occasionally indulges his urge to scare a colleague.
"You're going to be one of us now," Alex whispers as he leads me into the darkness. I'm not sure what that means, but I am fairly sure it's not something I want.
Miraculously though, I'm not brought to a zombie rave to be eaten alive or worse, but to a dressing room where Alex transforms into make-up artist extraordinaire and starts painting my face, arms and neck.
"Any part of you that sees the light need to be white," he tells me.
Apparently I can be a type 1 zombie, slow and sleepy, but scary nonetheless - unlike type 2, which are notoriously speedy and ruthless.
Blood is then splattered all over my face (and coat) and I'm done.
Exhausting work
I might look like a zombie, but there is more to it than a painted face.
I'm told to relax my limbs, growl and howl at the moon, let my inner zombie take over.
It's not as easy as it looks, chasing people all day is exhausting and I can't help feeling I am just a human with some funny make-up on.
In fact I'm increasingly convinced there is something strange about Alex and his friends, as they stumble towards me barking at the air.
"Are you sure you weren't born this way?" I ask. Alex laughs ominously.
"Yes," he says, "I am a little strange."