Cardiff's Muslim women make a stand on extremism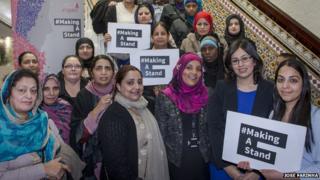 Muslim women are holding a conference in Cardiff to make a stand against Islamic extremism and radicalism.
It is one of a series of events around the UK to champion the importance of Muslim women's voices in society.
Inspire, a counter-extremism and human rights group, is behind the event.
"Women are the backbone of our communities and the first line of defence against radicalisers," said director Sara Khan.
The #MakingAStand conference aims to give women practical tips on "making a stand - as individuals and as groups - in building stable and peaceful communities by challenging hateful, bigoted and extreme views".
The event features sessions on recognising the dangers that groups such as Islamic State can pose to children on the internet.
Extremist ideologies
Inspire co-director Kalsoom Bashir said the women would be given advice on how to "challenge extremist ideologies, both here and abroad".
She added: "We know that our children are connected to this virtual reality on the internet.
"They are more connected to their virtual friends than to their family. It's about saying to our mothers they really do need to reconnect with our children.
"That can be literally around the dinner table".
Ms Bashir said Inspire had received calls from Muslim mothers who fear their children have crossed into Syria to fight.
"Our advice is that we think they are under a duty to tell somebody," she said.
Cardiff medical student, Nasser Muthana, 20, is believed to be one of hundreds of Britons who have gone to fight in Syria.