Treasurer Diane Roberts stole from Llantwit Major rugby club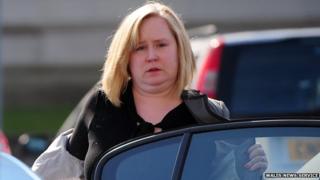 A treasurer brought in to save money at a Welsh rugby club instead stole £16,000 from them, a court has heard.
Newly-wed Diane Roberts, 33, stole from the Llantwit Major club's funds over 20 months and nearly forced it to go bust.
Cardiff Crown Court heard she tried to hide her thefts by claiming the cash amounts were payments to employees.
Roberts, of Boverton, admitted a charge of fraud between March 2012 and November 2013.
The court heard her husband, who she married two months ago, is now trying to take out a loan to pay back the Vale of Glamorgan club in a bid to keep his wife out of jail.
'Money-saving measure'
Prosecutor Matthew Cobbe told the court: "She offered to take over managing the pay roll.
"It was a cost-cutting, money-saving measure, but far from saving the club money, the defendant started dipping into funds, regularly taking £500 a time.
"She looked to conceal her dishonesty by saying the money was going to the bar staff - it wasn't."
Roberts quit after officials became suspicious when the club went into the red.
Club bosses had to re-negotiate with creditors to prevent it from folding. They were also unable to buy floodlights for the ground.
Judge William Gaskell said if Roberts can repay the money it would go in her "credit" when he comes to sentence her.
He adjourned the case for a month to see if Roberts could raise the money.