£20k damage caused to Newport's recycling vehicles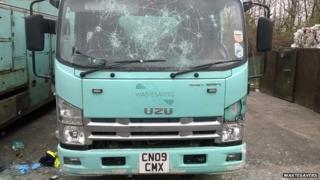 Vandals caused £20,000 worth of damage to recycling collection vehicles in Newport, disrupting some services in the city.
Wastesavers had 15 of its 17 vehicles out of action on Monday, following the weekend attack at its Esperanto Way depot.
Spokesman Phil Hurst described it as "pure vandalism" with windscreens and lights smashed and doors ripped off.
Gwent Police are investigating.
The charity sent 60 of its 70 workers home on Monday as repairs took place.
After round-the-clock repair work and extra shifts put on, the firm said it hoped to provide services as normal from Wednesday.
Wastesavers makes collections on behalf of Newport City Council from 64,000 homes and 300 businesses.