Maccess Group to close Gwaelod-y-Garth store in shake-up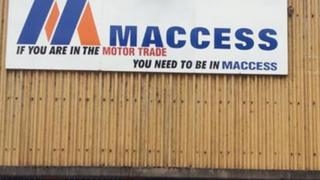 About a dozen staff have lost their jobs at a South Wales car parts firm after its head company decided to close a number of stores across the UK.
The Maccess site, at Gwaelod-y-Garth near Cardiff, is one of 11 of the brand stores being shut by Maccess Group Ltd.
The company also plans to close some Pacific Retail Ltd stores, which operate under the Motor World brand.
There are eight Motor World stores in Wales - however, it is not known if any Welsh sites are affected.
A company spokesman said: "The dynamics of the industry have changed and the customer base has declined to a point where business is no longer viable."
In total, 34 of the Pacific Retail shops across Britain will be hit - but the firm said it planned to buy 32 of the former store branches back from administrators, and operate them under the Motor World brand.