Gwent Police improves after concerns over cuts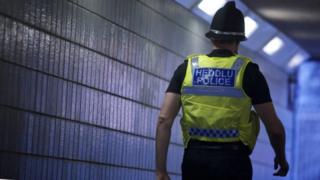 Gwent Police has made "good progress" nearly a year after a watchdog warned it could be putting crime fighting at risk as it tried to find savings.
Her Majesty's Inspectorate of Constabulary (HMIC) said last July the force faced "deteriorating performance" as vacant posts remained unfilled.
A progress report now says Gwent Police has developed a way to better manage resources and deliver policing.
Gwent's Police and Crime Commissioner Ian Johnston said he was "pleased".
The force was the only one in Wales told by HMIC last year that it required improvement and one of only three forces in England and Wales flagged by the inspectorate.
In its follow up report it said the force can now demonstrate how it will have a secure financial position for the short and long term.
Despite some concerns, it added the early progress the force had made was encouraging and provided some reassurance of its ability to deliver the changes required.
Mr Johnston said: "This is no mean feat considering the enormity of the financial challenges they face with on-going public spending cuts."