Resident blasts Penarth 'Legoland' refurbishment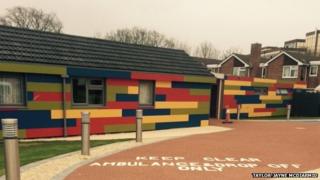 A Penarth man has criticised a "bizarre" refurbishment he claims makes his home look like Legoland.
Graham White, 76, said residents think the 36-flat Redlands House is "more like a children's play scheme than sheltered accommodation".
The outside walls were painted bright colours and flats refurbished.
Vale of Glamorgan council said the flats have been transformed into "vibrant" and "attractive" 21st Century facilities.
'Welcome to Legoland'
Mr White, who has lived in one of the flats for three years, said: "It is a total waste of public money. The colours are totally unsuitable for the older people that live here. They should put up a sign saying 'Welcome to Legoland'."
A council spokesman could not confirm the exact cost of the work.
He said the apartments and communal areas have been refurbished to help older people and those leaving hospital to live independently.
"We understand that the design won't suit everyone's tastes, but we have heard countless positive comments from residents and local people, and the important improvements to the facilities inside will help many more people remain independent for longer," the spokesman added.