Goshawk found with broken wing nursed back to health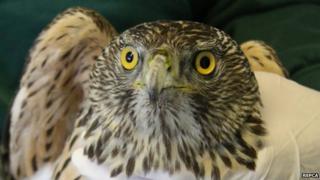 A rare Goshawk found with a fractured wing in Rhondda Cynon Taff has been nursed back to health and released into the wild.
The female Goshawk, who is thought to be around one-year-old, was found by a member of the public in Porth in mid-January.
After two months in the care of the RSPCA the bird has now fully recovered.
RSPCA spokeswoman Arminel Scott said: "We are pleased to release her back into the wild where she belongs."
She added: "The Goshawk was brought in to us with a damaged wing, but we had no idea how she had fractured it.
"Her wing carriage took several weeks to return to normal, but we have a very long flight aviary in which she was able to get back to full fitness."