Crickhowell residents oppose supermarket for town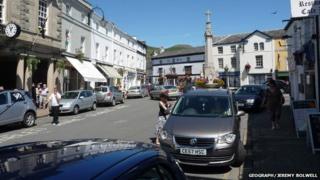 More than 400 people have attended a meeting to oppose plans for a supermarket.
They voted unanimously to ask pub firm Punch Taverns to not allow The Corn Exchange pub in Crickhowell to be turned into a convenience store.
The town has only one national chain - Boots chemist - while all other businesses are family run and independent.
Last week 200 people attended a protest over the plan.
The final decision on the application will be taken by Brecon Beacons National Park Authority.
Neither the park authority nor Punch Taverns were represented at the meeting.