Cat stamped on and killed in Newport 'horrific ordeal'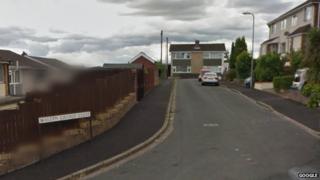 A cat was found dead after being swung round by its legs and stamped on.
The RSPCA was contacted after a member of the public heard the cat screaming during the attack on the common off Walden Grange Close, Newport.
The charity said a man, accompanied by two teenage boys, was seen swinging the cat and stamping on it on 29 March.
RSPCA acting chief inspector Emma Smith said: "According to the account we have received this poor cat suffered a horrific ordeal."
The cat, which also had injuries which may be the result of a dog attack, was not chipped or wearing a collar so its owner cannot be traced.
The RSPCA is appealing for information about the attack and Ms Smith said the only description of the man was that he was possibly in his late 30s.