Cardiff City fans boycott Leeds United game over restrictions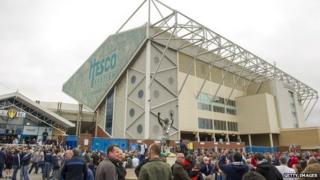 Cardiff City fans will boycott Saturday's away game against Leeds United over what they call a "derisory ticket allocation".
Club chief executive, Ken Choo, said he believed West Yorkshire Police could manage the event "without any issue or restrictions, if they chose to do so".
The Leeds club said it had consulted with the police and The Football League on the matter and was disappointed there would be no Cardiff supporters.
The police have been asked to comment.
Cardiff City has opted to return the 500 tickets offered for the game at Elland Road.
'Mutually agreeable solution'
Mr Choo told the club website: "Having listened to collective views and in knowledge of the positive record and reputation Cardiff City fans have built at away fixtures in recent years, we have no option but to return the low number of unrestricted tickets on offer out of respect for our supporters.
"Our preference was for Cardiff City fans to be granted the same respect and freedom of travel as provided to over 2,000 Leeds supporters for the corresponding fixture this season, and we are frustrated that this could not be permitted.
"With the intelligence and information available... we consider the event to be routine and manageable and that the travel and ticket restrictions in place are substantially out of proportion to any perceived risk."
He said a request to show the fixture via "beam back" at Cardiff City Stadium had also been refused.
A statement on the Leeds United website said its initial offer of 1,000 restricted tickets had been refused by Cardiff.
Decision backed
It said: "Leeds United will continue to work with Cardiff City to try and reach a mutually agreeable solution for next season's fixtures, both at Elland Road and at the Cardiff City Stadium."
Cardiff City Supporters Club (CCSC) chairman Clive Francis said: "We appreciate that there will be some fans who will be disappointed by this decision.
"However from the feeling generated by those supporters who travelled on the CCSC coaches to Reading on Saturday, the majority of those travelling fans were in favour of a boycott of this fixture based on the derisory ticket allocation and second rate treatment supporters have received during previous visits."
A spokesman for Cardiff City Supporters' Trust said it fully supported the decision.