Steve Strange celebrated at New Romantic festival in Porthcawl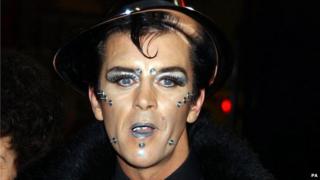 The life of 1980s' pop star Steve Strange is to be celebrated at a New Romantic festival in south Wales.
The day-long event on 31 October will be held in Porthcawl, where the former Visage singer's funeral was held in March.
A number of bands will perform on the renamed Steve Strange Stage in the seaside town's Grand Pavilion.
Mr Strange, who was born Steven Harrington in Newbridge, died aged 55 in February while he was in Egypt.
The festival is being organised by musician Jayce Lewis and Mr Strange's former personal assistant Amanda Lloyd.
Mr Lewis said: "The response to Steve's death was so overwhelming.
"We could see that the New Romantic era was very much alive and so we wanted to carry the torch."
Several big names of 1980s music were at Mr Strange's funeral including Boy George and members of Spandau Ballet and ABC.