Amelia Jones: Grandfather gave police 'five different accounts'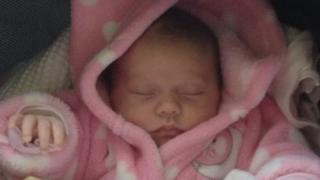 A man accused of murdering his five-week-old granddaughter told police "five different accounts" of what happened the night she was taken to hospital, a court has heard.
Mark Jones, 45, of Cwmbran, Torfaen, has pleaded not guilty to murder at his trial at Newport Crown Court.
On Friday, jurors were played a police interview from 9 September 2014.
In the interview, Mr Jones said that he dropped Amelia after fainting whilst holding her.
He said that on 17 November 2012 he was in the kitchen holding Amelia when he "started to feel a bit rough".
He said he "turned around to get Amelia to the sofa" but "hit the floor", and when he woke up Amelia was "on the floor", and that she was "trying to get her breath".
He said he then put Amelia Jones on the sofa and went outside to get some air for five or 10 minutes but when he returned he "couldn't see no movement" with Amelia.
Mr Jones had previously told police that he tripped over a toy and dropped Amelia the day before she was taken to hospital.
Then, in a later interview, he said that another person, who cannot be named for legal reasons, dropped her the following day while "messing" with their phone. He has since admitted that this did not occur.
In the interview played to the court, he is asked whether his latest story is the truth and he replies "you want the truth, I've just explained the truth now".
The trial continues.