Amelia Jones murder trial: Grandfather 'did not squeeze' baby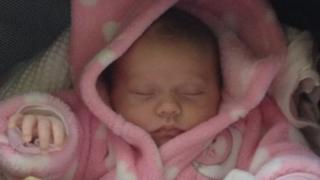 A grandfather accused of murdering his baby granddaughter said he feels responsible for her death but did not kill her.
Newport Crown Court heard Amelia Jones was just 41 days old when she died after suffering a "catastrophic" bleed to the brain and a fractured skull.
Her grandfather, Mark Jones, 45, of Cwmbran, Torfaen, denies murder.
Taking to the witness stand at the start of his defence, he told the jury he did not "squeeze or pull" her.
Mr Jones said he accidentally dropped Amelia after slipping on a child's toy while babysitting her alone one Friday night before fainting while carrying her the following evening.
Passed out
Giving evidence, he confessed to faking a deadly brain tumour to his long estranged daughter Sarah - Amelia's mother.
"Why did I do it?....I dunno," he told his trial. "I supposed I just wanted the attention and that was about it.
"Do I feel responsible for Amelia's death? Yes. Did I murder her? No. I did not do anything to deliberately or intentionally harm her."
The defendant said he fell with Amelia in his arms on one occasion and passed out while holding her on another.
After going outside to get some fresh air, he realised she wasn't breathing, called 999 and started performing CPR, the court heard.
Mr Jones also talked about an incident before the infant's death when the child was said to have been distressed and crying in his care in a supermarket car park.
He said the incident on 6 November 2012 was caused by Amelia's sister "kicking the baby chair" in the car.