Discover Newport's history with QR code tour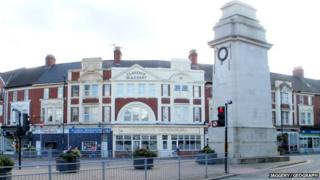 A city's history has been brought to life in a new mobile phone tour.
Walkers in Newport can now scan eight QR codes across the city centre as part of the 'Heroes and Villains' tour.
Created by HistoryPoints.org, it features stories on a soldier who returned from the Boer War to kill his wife and a delivery boy who was the hero of the 1909 dock disaster.
The tour runs between the Cenotaph in Clarence Place and the Merchant Navy memorial in Cardiff Road.
Rhodri Clark, founder of HistoryPoints.org, hopes the new tour will appeal to both residents and tourists.
The QR codes can be found at:
Newport Cenotaph, Clarence Place: The cenotaph was unveiled by Lord Tredegar in June 1923. It commemorates local people who died in active service in WWI and in subsequent wars
The John Wallace Linton, Cambrian Road: The pub is named after John Wallace Linton, a WWII naval hero from Newport who received the Victoria Cross
The Queen's Hotel, Bridge Street: The open area outside the hotel is where a key speech was given by suffragettes Nellie Crocker and Mary Keegan in June 1908
Site of Chartist protest, Commercial Street: On 4 November, 1839, around 5,000 Chartists gathered in front of the Westgate Hotel and demanded the release of fellow campaigners who had been arrested
Cuckold murder site, Commercial Street: A woman was murdered in the building after her husband returned from the Boer War to find that she had had two children by another man during his absence
The Tom Toya Lewis, Commercial Street: The pub is named after a 14-year-old newspaper delivery boy who became a hero of the Newport Dock Disaster in July 1909
St Woolos Cathedral, Stow Hill: The cathedral is named after a warlord who converted to Christianity
Merchant Navy memorial, Cardiff Road: The memorial is dedicated to the local Merchant Navy sailors who died in WWI and II